1. Reading all of my blog friends
Ten on the Tenth
posts.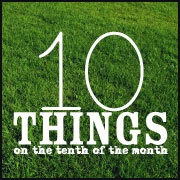 2. My beautiful kitchen after a thorough cleaning by yours truly:
4. Getting happy mail from a blog friend:
5. The summer symphony of cicadas and crickets. Really love that sound!
6. The happy rush when the receipt from Kohls says you saved $248.96 and the amount you spent is LESS than the amount you saved!
7. Getting a phone call from my favorite sister. She always makes me laugh.
8. The anticipation of being able to play with all these lovely new acrylic paints - and knowing that they were purchased on sale for a mere 3/$1.00 at AC Moore!
9. Celebrating twenty-six years of marriage with the man I love:
10. Knowing that as of next Monday that man rejoins the ranks of the gainfully employed! (But that is a story for another post...)